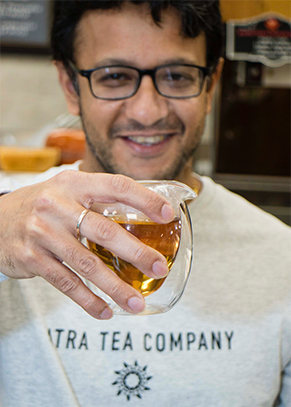 Hi, I'm Vikram, the founder of Yatra Tea Company. Thanks for visiting us!
Growing up in Kolkata, India, my journey with tea naturally began with traditional chai. However, the close proximity to prominent tea growing regions like Darjeeling and Assam allowed me the opportunity to savor some of the finer teas produced in the land. Add to that close friends who are deeply entrenched in the tea trade and thus began my introduction to premium grade, single origin teas.
I personally found that teas from the Indian subcontinent were not well represented in the US. There is great diversity in South Asian tea, highlighted by various tea growing regions and within each region, multiple types of tea, each offering a unique flavor profile. Thanks to the support of a trusted supply chain that allows for truly direct sourcing, Yatra Tea Company was born.
Translated from the ancient Indian language of Sanskrit, "Yatra" refers to a journey. I hope you will join me on this wondrous journey of tea from crop to cup.
shop now